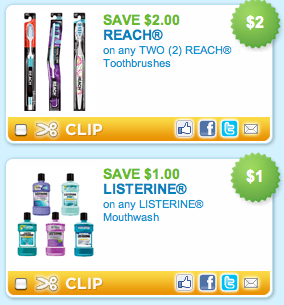 I was bummed about the Counterfeit Listerine coupon the other day....but it looks like the coupons gods have shined down on us because a new one has appeared from the very legit coupons.com. Here are the free goods you can score.
MORE great coupons! If you did not get the
$1 off Reach floss
one yesterday it was still there a minute ago!
Plus, there are 2 more good ones! Print them quick!
CVS has the Oral Health deals going this week and you can score the following FREE:
Buy 2 Reach Total Care toothbrush – $1.00
Use 1
$2 off ANY two Reach toothbrushes printable
Total: both FREE
Buy Listerine Mouth Wash 250 mL – $1.00
Use
$1 off ANY Listerine mouth wash printable
Total: FREE
Walmart:
Buy 1 Reach Floss $.88
Use
$1 off any Reach Floss printable
Total: Free + $.12 overage!